Executive Director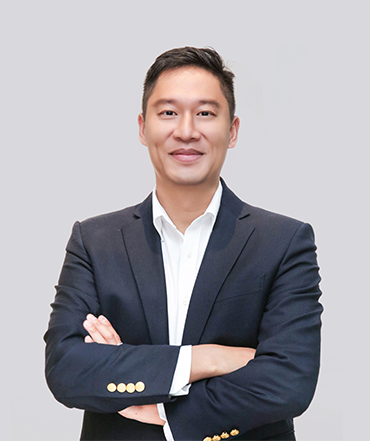 Mr. Wong Sai Chuen
Chairman, Chief Executive Officer & Executive Director, age 47


•

Responsible for the strategic planning, business development, daily operations and major decision making of the Group

•

Founded the Group in 2009 and was appointed as a Director on 24 March 2017. He is also a director of certain subsidiaries of the Company

•

Has over 12 years of experience in the interior fit-out industry

•

Obtained a China-MBA from Shanghai Jiao Tong University in China

•

The honorary director of the 55th Term board of directors of the Yan Chai Hospital

•

He is the spouse of Ms. Hui Man Yee, Maggie, an executive Director of the Company
Ms. Hui Man Yee Maggie
Executive Director, age 45


•

Responsible for daily operations, business development, human resources and administrative management of the Group

•

Joined the Group in April 2015 and was appointed as an executive Director on 6 July 2017. She is also a director of certain subsidiaries of the Company

•

Prior to joining the Group, she has over 10 years of experience in the hotel industry

•

Obtained a master's degree in business administration from University of Birmingham in the United Kingdom and a bachelor's degree of science in hotel and tourism management in Sheffield Hallam University in the United Kingdom

•

She is the spouse of Mr. Wong Sai Chuen, the chairman and an executive Director of the Company
Dr. Sung Tak Wing Leo
Executive Director, Compliance Officer, Joint Company Secretary, age 61


•

Responsible for daily operations, business development and public relations of the Group

•

Joined the Group in September 2019 and was appointed as an executive Director on 11 March 2020

•

Prior to joining the Group, Dr. Sung served as an executive director, chief executive officer, joint company secretary and authorised representative of GSN Corporations Limited (formerly known as New Western Group Limited), a company listed on GEM of the Stock Exchange (stock code: 8242), from March 2014 to May 2019 and was responsible for accounting and finance management, and business development as well as company secretary matters

•

From September 2004 to February 2014, he served as the managing director and a responsible officer of Tensant Securities Limited (formerly known as King's HT Securities Limited), a licensed corporation under the Securities and Futures Ordinance (Chapter 571 of the Laws of Hong Kong), and has accumulated working in the financial and securities industry for over 17 years

•

Before entering into the securities industry, he has worked for several solicitors' firms in Hong Kong for about 17 years

•

Has been awarded the distinction of an honorary doctor in Business Administration from American Purlinton University. He also obtained a master's degree of Accountancy from Lingnan University and a bachelor's degree of Commerce in Management and Marketing from Curtin University of Technology in Australia

•

He is a fellow member of The Association of International Accountants, a fellow member of The Institute of Public Accountants of the Australia, a fellow member of The Institute of Financial Accountants of the United Kingdom, an International affiliated of The Hong Kong Institute of Certified Public Accountants, and a fellow member of The Institute of The Institute of the Certified Management Accountants of Australia
Independent non-executive Director
Mr. Cheung Chi Man Dennis
Independent non-executive Director, age 54


•

Joined the Company as an independent non-executive Director on 21 January 2020

•

Currently as the chairman of Audit Committee and Remuneration Committee, and the member of Nomination Committee

•

A fellow member of The Hong Kong Institute of Certified Public Accountants and a certified tax adviser of The Taxation Institute of Hong Kong

•

Has been appointed as an independent non-executive director of the Prosper Construction Holdings Limited (stock code: 6816) since August 2017. From April 2015 to June 2020, he also served as an independent non-executive director of GSN Corporations Limited (formerly known as New Western Group Limited)(stock code: 8242), and was appointed as an independent non-executive director of Lamtex Holdings Limited (stock code: 1041) from August 2020 to October 2020

•

Has over 20 years' experience in financial management, treasury and company secretarial matters
Mr. Chan Cham Chuen Charles
Independent non-executive Director, age 50


•

Joined the Company as an independent non-executive Director on 9 August 2021

•

Currently as the member of each of Remuneration Committee, Nomination Committee and Audit Committee

•

Obtained a master's degree in Business Administration from The Hong Kong Polytechnic University and a bachelor's degree in Social Sciences and Communication from The University of Southern California, the United States of America

•

Prior to joining the Company, he has over 25 years of experience in the apparel manufacturing and trading business in Hong Kong since 1994, and he has participated in business connected to fine timepiece business since 2007. Since 2018, Mr. Chan has served as a senior advisor of Lion Rock Capital Limited, an Asian private equity investment firm in Hong Kong.

•

Currently also serves as (i) the voting member of the Hong Kong Jockey Club; (ii) the chairman of the 7th term board of directors of the Education Development Foundation Association; (iii) the manager of Yan Chai Hospital Chan Iu Seng Primary School; and (iv) the director of Hong Kong Network for the Promotion of Inclusive Society Limited.
Mr. Law Chun Yat
Independent non-executive Director, age 34


•

Joined the Company as an independent non-executive Director on 25 February 2022

•

Currently as the member of each of Remuneration Committee, Nomination Committee and Audit Committee

•

A member and Certified Public Accountant (Practising) of Hong Kong Institute of Certified Public Accountants

•

Obtained a bachelor's degree of Commerce (Honours) in Accountancy from The Hong Kong Baptist University in 2010

•

Prior to joining the Company, he has over 8 years of experience in accounting, auditing and taxation matters